The Institute for Christian Formation

Follow us on Facebook to keep up to date with our news and newest resources!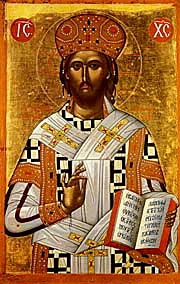 Advent Weekday

Saturday, December 19, 2015

The readings proclaimed at Mass today tell beautiful stories of new life being conceived in what was once barren.  The First Reading (Judges 13:2-7,24-25a) tells the story of the conception and birth of Samson, who was consecrated to God from the womb to his death.  The Gospel for today (Luke 1:5-25) tells the story of the Archangel Gabriel's annunciation to Zechariah, as he was executing his priestly service burning incense in the sanctuary.  Gabriel announced to Zechariah that his prayer had been heard and that Zechariah's wife, Elizabeth, who was barren and aged, would give birth to a son named John.  But Zechariah was incredulous and questioned Gabriel.  Because of this initial doubt, Zechariah was rendered mute until this prophecy was fulfilled.  After Zechariah's priestly service ended and he returned home, Elizabeth conceived.
Read both of these Scripture stories.  What are the similarities between the conception of Samson and the conception of John the Baptist?  What does this tell you about God and God's timing? 

The "O Antiphon" for today, December 19, is "O Flower (or root) of Jesse's Stem" (see Isaiah 11:10).  In Latin this is "Radix Jesse."  You can listen to today's antiphon in Latin below.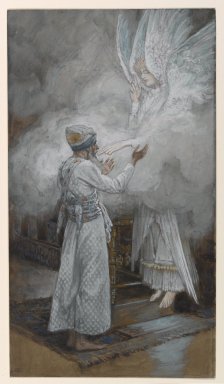 We talked about Jesse and the Jesse Tree on our page for Tuesday of the First Week of Advent.  You might want to revisit this page today.  The University of Dayton's Mary Page also has a lovely meditation on the Jesse Tree, which you can find here.  And you might enjoy the video below, from Loyola Press, "Arts and Faith: Advent Activities," focusing on Absolon Stumme's 1499 altarpiece, "Hamburg Altar (The Tree of Jesse).
James Tissot (French, 1836-1902). The Vision of Zacharias (Vision de Zacharie), 1886-1894. Opaque watercolor over graphite on gray wove paper.  Image: 9 3/8 x 5 1/4 in. (23.8 x 13.3 cm). Brooklyn Museum, Purchased by public subscription, 00.159.13

Below is a reflection on today's O Antiphon.