The Institute for Christian Formation

Follow us on Facebook to keep up to date with our news and newest resources!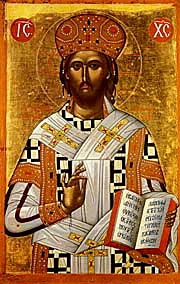 Thursday, January 7, 2016

Christmas Weekday

On this Christmas weekday, our Gospel is Luke 4:14-22.  This passage occurs in Luke's Gospel following both Jesus' baptism and his temptation.  He has returned to his home town of Nazareth.  As he would have faithfully done throughout his entire life, Jesus went to the local synagogue for the Sabbath.  He gets up in the synagogue, unrolls the scroll, and reads from the Prophet Isaiah (see Isaiah 61:1-2).  Read this passage from Luke's Gospel slowly.  Then spend some time reflecting either individually, or in a group, on the following questions:
•

What does it mean to bring glad tidings to the poor?  Who are the poor in your midst today?  What one thing can you do to bring these poor glad tidings this new year?
•

What does it mean to proclaim liberty to captives?  Who do you know who might be in captivity?  What can you do to help this person attain freedom?  Is there anything in your life that is holding you captive?  Ask Jesus to set you free.
•

Who are the blind in society today?  Is there anything in your life to which you "lend a blind eye"?  How can you see more clearly this new year?  How can you see through Jesus' eyes?
•

Do you know anyone, or any group of people, who are oppressed?  Is there any area in which you feel oppressed?  How can you experience freedom and help others to do the same?
•

What is a "year acceptable to the Lord"?  What does this mean?  What can you do so 2016 will be a year acceptable to the Lord? 
Positioned where it is in Luke's Gospel, this passage defines Jesus' mission as he starts his public ministry.  It is his vocation in life.

James Tissot (French, 1836-1902). Jesus Unrolls the Book in the Synagogue (Jésus dans la synagogue déroule le livre), 1886-1894. Opaque watercolor over graphite on gray wove paper, Image: 10 11/16 x 7 9/16 in. (27.1 x 19.2 cm). Brooklyn Museum, Purchased by public subscription, 00.159.71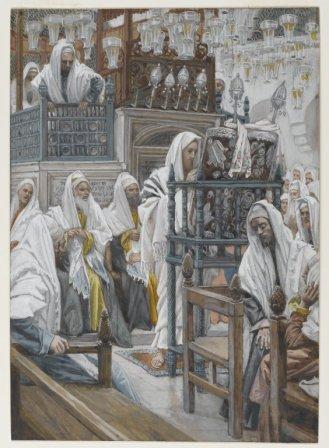 On this Wednesday after Epiphany, it might be difficult for some people to remember that we are still celebrating the Christmas Season - for five more days! But did you know that there are some Orthodox Christians in the world who keep a calendar different from the one we keep, and today - January 7 - they are celebrating Christmas Day! The response for our Psalm at Mass today reminds us that every nation on earth will adore the Lord.  In your reflection today, pray   for   all   those around the world who are celebrating Christmas Day today.  Learn about some of these cultures and traditions.  Here you can learn more about how the Ethiopians are celebrating Christmas today.  And below listen to a traditional Ukrainian Christmas Carol.    
Children's Biblical Scroll Craft for Home or Classroom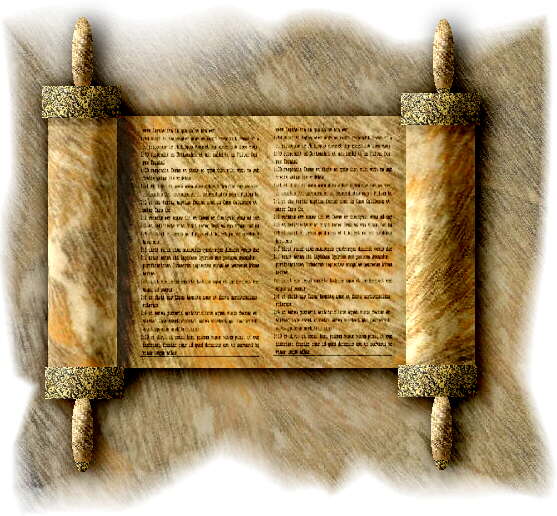 In today's Gospel, Jesus gets up in the synagogue, unrolls the scroll, and reads from the Prophet Isaiah.  Children can make their own scroll.  All you need is a roll of paper and two dowels for each scroll. Let each child choose his/her favorite Scripture verse to put on his/her scroll.  (You might want to suggest several Bible verses as choices for children.) Hang the finished scrolls in a prominent place in your home or classroom.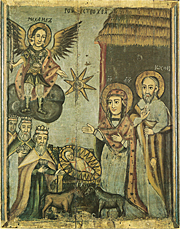 Nativity of the Lord

Anonymous Artist of Latygava, 1746

Location: Bssr State Art Museum

Saint Raymond of Penyafort, Priest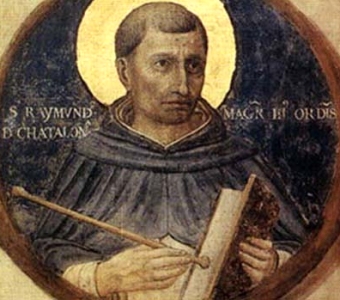 Today the Church also celebrates the feast day (an optional memorial) of Saint Raymond of Penyafort, Priest.  Raymond was born in Spain in the year 1175 and lived for almost a century, dying in the year 1275 at the age of 99.  Raymond was an extremely educated and intelligent man.  At twenty years of age he was teaching at the University of Barcelona. He joined the Dominican Order in his early forties, and by that time he already had earned doctorates in civil and Church law.  

Raymond  was  sent  to  Rome to be the advisor and confessor of Pope Gregory IX.  One of Raymond's tasks was to make a compilation of all the various decrees of the popes and the Church councils. This ended up in being a total of five volumes, called the "Decretals." Raymond's organizational skills were so good that the Decretals were used by the Church for seven hundred years!  He also wrote quite extensively on the sacrament of penance. When he was sixty years old, Raymond was appointed an Archbishop, but he ended  up  becoming  ill  and  resigning shortly thereafter. But then at age sixty-three he was elected head of the Dominican Order, the successor of Saint Dominic.  He remained in this position of leadership for two years.  After he left this position, he continued to preach until his death.  Saint Raymond of Penyafort is the Patron Saint of canonists and lawyers.