The Institute for Christian Formation

Follow us on Facebook to keep up to date with our news and newest resources!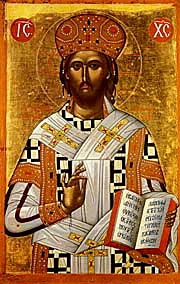 Tuesday, January 7, 2014

Christmas Weekday

(optional memorial of Saint Raymond of Penyafort, Priest)

Today is a Christmas Weekday on our Church Calendar. The Gospel proclaimed at Mass today is Mark 6:34-44.    In our Gospel today we hear an account of the miracle of the loaves and fishes.  (We heard another story of the miracle of the loaves and fishes from Matthew's Gospel in our Gospel on December 4, and you may want to revisit that page today.)
Celebrate today's Gospel in a culinary fashion!  If you want to get very creative, here is a recipe for "Fish in Fish"  (fish-shaped  bread  with  a  fish
On this Tuesday after Epiphany, it might be difficult for some people to remember that we are still celebrating the Christmas Season - for six more days! But did you know that there are some Orthodox Christians in the world who keep a calendar different from the one we keep, and today - January 7 - they are celebrating Christmas Day! The response for our Psalm at Mass today reminds us that every nation on earth will adore the Lord.  In your reflection today, pray   for   all   those around the world who are celebrating Christmas Day today.  Learn about some of these cultures and traditions.  Here you can learn more about how the Ethiopians are celebrating Christmas today.  And below listen to a traditional Ukrainian Christmas Carol.
Rome to be the advisor and confessor of Pope Gregory IX.  One of Raymond's tasks was to make a compilation of all the various decrees of the popes and the Church councils. This ended up in being a total of five volumes, called the "Decretals."  Raymond's organizational skills were so good that the Decretals were used by the Church for seven hundred years!  He also wrote quite extensively on the sacrament of penance. When he was sixty years old, Raymond was appointed an Archbishop, but he  ended  up  becoming  ill  and  resigning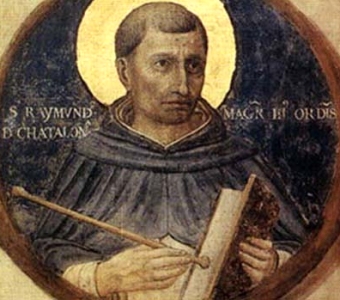 shortly thereafter.  But then at age sixty-three he was elected head of the Dominican Order, the successor of Saint Dominic.  He remained in this position of leadership for two years.  After he left this position, he continued to preach until his death.  Saint Raymond of Penyafort is the Patron Saint of canonists and lawyers.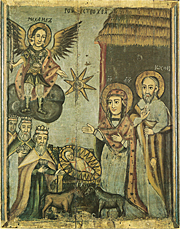 Today the Church also celebrates the feast day (an optional memorial) of Saint Raymond of Penyafort, Priest.  Raymond was born in Spain in the year 1175 and lived for almost a century, dying in the year 1275 at the age of 99.  Raymond was an extremely educated and intelligent man.  At twenty years of age he was teaching at the University of Barcelona.  He joined the Dominican Order in his early forties, and by that time he already had earned doctorates in civil and Church law.  Raymond was sent to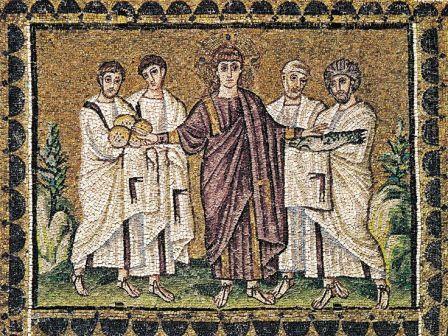 Miracle of the Loaves and Fishes

Mosaic, ca. 504

Sant Apollinare Nuovo, Ravenna, Italy

filling) from A Tasty Challenge blog.  For something much simpler for children, make fish-shaped tuna sandwiches! Pepperidge Farm Goldfish Bread is sold at many groceries, and is already fish-shaped.  You could even serve fish-shaped cookies as a snack or for dessert.  Fish-shaped cookie cutters are easy to find in the cookware section of most department stores, or can be purchased online.
Children can access an online "loaves and fishes" coloring page here.  The Antiochian Orthodox Church has a lesson plan for the account of the miracle of the loaves and fishes from Matthew 14:14-22.  It contains a lovely icon coloring page of the miracle of the loaves and fishes.  And for those who want a more challenging art project, you can purchase a do-it-yourself Loaves and Fishes mosaic kit.
Saint Raymond of Penyafort, Priest

Nativity of the Lord

Anonymous Artist of Latygava

1746

Location: Bssr State Art Museum

Saint Raymond of Penyafort