The Institute for Christian Formation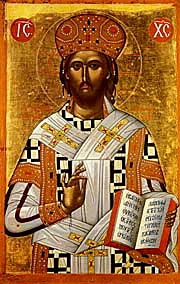 Advent Weekday

Thursday, December 17, 2015

Beginning today, there is a "shift", if you will, in the focus of the Advent Season.  Our readings at Mass now more directly prepare us for the birth  of  the  Lord. The Gospel for Mass today is Matthew 1:1-17, the Genealogy of Jesus Christ. The "O Antiphons" may also be used as our Gospel Acclamation at Mass.
Perhaps one of the best known Advent hymns is "O Come, O Come, Emmanuel."  This hymn is based on what we call the "O Antiphons".  These seven antiphons call for the coming of Christ, using titles of Christ from prophecies in the Hebrew Scriptures.  Each antiphon begins with the word "O."                                                                                        
The O Antiphons are prayed beginning December 17 through December 23. They are prayed at Vespers, and may be used as the Gospel acclamation at Mass on these days.

These titles of Christ are Wisdom (Sapientia), Lord (Adonai), Root of Jesse (Radix Jesse), Key of David (Clavis David), Radiant Dawn (Oriens), King of Nations (Rex Gentium), and God-With-Us (Emmanuel).

If you look at the titles in Latin, the initials, taken backwards, spell ERO CRAS, which in Latin means "tomorrow I come", or "I will be tomorrow".  As we conclude the O Antiphons, the birth of the Lord draws near!

The O Antiphon for today is "O Wisdom," or in Latin, "O Sapientia." It is based on Wisdom 9:17-18.  You can listen to today's antiphon in Latin below: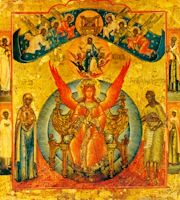 Holy Wisdom

18th Century Russian Icon

To reflect more deeply on the O Antiphons, visit the web site of Grace Episcopal Church in Bainbridge, Washington to view the worship aide they used for an Advent Prayer celebration in December 2009.
Pastoral Liturgy has a handout on the "O Antiphons" which you can download.
Treat children to an "O Antiphon" cookie each day as we pray the O Antiphons, telling them about each antiphon, in turn.  The St. Nicholas Center has a resource for O Antiphon cookies. 
Below is a reflection on today's O Antiphon, "O Wisdom."