The Institute for Christian Formation

Follow us on Facebook to keep up to date with our news and newest resources!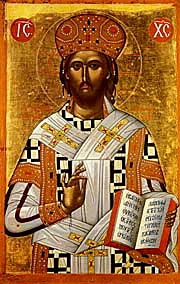 Advent Weekday

Wednesday, December 23, 2015

Today is our last "full" day of Advent.  Tomorrow evening is the Vigil of the Nativity of the Lord, and we enter the Christmas Season.

In the Gospel assigned to this late Advent Weekday (Luke 1:57-66) we hear the story of the birth and naming of John the Baptist.  Elizabeth, who was aged and had been considered barren, gave birth to her son.  Her neighbors and relatives all rejoiced with her. 
It was the Jewish custom to circumcise and name a male child when he was eight days old.  So everyone gathered with Elizabeth and Zechariah for

no one in the family was named John.  So they asked Zechariah, who was still mute, what the child was to be named.  Zechariah took a tablet and wrote down that his son was named John.  And it was at this point that Zechariah was once again able to speak.

This is a wonderful story of birth and new beginnings, and it also speaks to the power of a name.  Around the dinner table this evening, after you have lighted the four candles on your Advent Wreath and said your meal prayer, have some table conversation around family names.  What is the name of each person at the table?  How was this person's name chosen?  If you have children, tell them how you chose their name.

If children need any more gifts for others for the upcoming Christmas Season, perhaps they could make a "name plate" wreath ornament for family or friends.  Take a heavy-duty paper plate, perhaps in a gold color.  Punch a hole on either side, about an inch above the center.  Let children print/write the gift recipient's name in the center of the plate, and then decorate the outer circle, around the name, with decorations symbolizing something about that person's name.  It might be a symbol of a Saint for whom the person was named, or something else of the child's choosing.  Then take brightly colored ribbon or yarn and put it through the two punch holes, tying it to form a "hanger" of sorts.  Your child will have a lovely, personalized keepsake gift that is sure to bring a smile to the recipient's face!

Nativity of St. John the Forerunner

15th Century; Cretan

Hermitage Museum,

St. Petersburg

this celebration.  Now if you recall from our Gospel for December 19 (Luke 1:5-25), Zechariah had been in priestly service in the sanctuary when the Archangel Gabriel appeared to him to announce that Elizabeth would conceive and bear a son named John.  But Zechariah had at first doubted how this could be, and because of this doubt, he was rendered mute.  So from that moment, Zechariah did not speak.
At the celebration for the circumcision for Elizabeth and Zechariah's son, everyone assumed that the infant would be named Zechariah after his father.  But Elizabeth corrected them, stating that the baby was to be named John.  Now, the friends and relatives gathered there were confused, as

Today we have our final "O Antiphon," "God-With-Us," or in Latin, "O Emmanuel."  You can listen to this Antiphon in Latin below.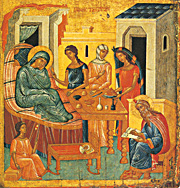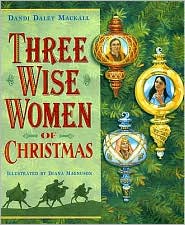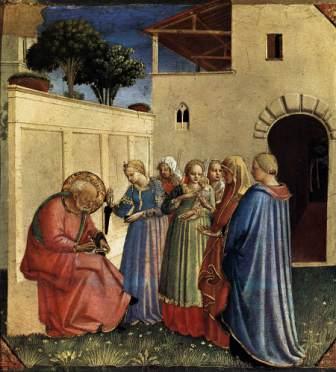 The Naming of John the Baptist

Fra Angelico, 1434-35

Tempera on panel

Museo del Prado, Madrid

We have heard several stories of birth and new beginnings proclaimed in our readings for Mass these late Advent weekdays.  There is a wonderful book for younger children, "Three Wise Women of Christmas" (ISBN 978-0-7586-1108-6), written by Dandi Daley Mackall and illustrated by Diana Magnuson.  This book tells the stories of Mary, the Mother of Jesus; Elizabeth, the mother of John the Baptist; and Anna, the elderly Jewish woman who was in the Temple when Mary and Joseph took the forty day old Jesus to the Temple, as was the custom. 

As we conclude our "O Antiphons" today, you might also enjoy this rendition of "Veni, Veni Emmanuel" - viol consort, Early Music by Ernst Stolz & friends.

Below is a reflection on today's O Antiphon, which also includes some thoughts on Saint John Kanty, Priest, whose feast (optional memorial) we celebrate today.  John Kanty was a 15th century dean of philosophy and professor of theology at the University of Cracow, and is a patron of Poland.