The Institute for Christian Formation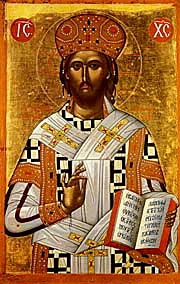 Saturday of the First Week of Advent

December 5, 2015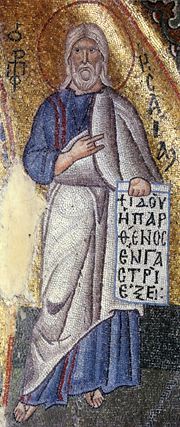 On this first Saturday in Advent, let us turn to the Prophet Isaiah. This great prophet is certainly an important Advent figure.  Writing in the second half of the 8th century B.C., Isaiah's prophecies include the birth of Immanuel. The image of the Prophet Isaiah pictured here dates to the 11th century (1042-1056) and is a mosaic done in the Byzantine tradition. Located at the Nea Moni Monastery in Chios, Greece, the scroll Isaiah is holding is one of Isaiah's Immanuel prophecies.  Based on Isaiah 7:14, this scroll says "Behold the Virgin shall conceive in her womb."              

The Book of the Prophet Isaiah is proclaimed frequently  in our Advent liturgies. Our First Reading today is from Isaiah chapter 30.  Spend some time this Advent Season in prayerful reflection with the Prophet Isaiah.  What do you think Isaiah's message is for us today?
Look up Isaiah 7:14 in your Bible. Invite children to draw a scroll and to write this Bible verse on their scroll.  Teens and adults might even want to create a mosaic, such as the one pictured here.  You can access an icon pattern for the Prophet Isaiah here.  Children could use this as a coloring page.
Did you know that the Israel Museum in Jerusalem recently posted the Dead Sea Scrolls on line?  The Digital Dead Sea Scrolls they have posted includes the Great Isaiah Scroll, one of the original seven Dead Sea Scrolls found in Qumran in 1947.  You can learn more about this scroll and view it on line here.
Don't forget to leave your shoes out tonight for an overnight visit from Saint Nicholas, whose feast we celebrate tomorrow!