The Institute for Christian Formation

Follow us on Facebook to keep up to date with our news and newest resources!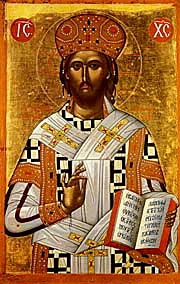 On December 27 we celebrate the Feast of Saint John, Apostle and Evangelist.  This feast dates back to the fourth century in the Eastern Church.  The Gospel of John, three letters in the Christian Scriptures (First Letter of Saint John, Second Letter of Saint John, and Third Letter of Saint John), and the Book of Revelation are attributed to Saint John.

John's Gospel is very different than the Gospels of Matthew, Mark, and Luke.  In fact, these other three Gospels (Matthew, Mark, and Luke) are called the "Synoptic Gospels" because of their similarities.  John's Gospel is often considered to be much more "lofty" in its theology, which is why the symbol for Saint John is an eagle.

John's Gospel, unlike the Gospels of Matthew and Luke, does not include an Infancy Narrative (a story

Saint John the Theologian in Silence

Cretan, circa 1500

Monastery Hagias Triados Tzagcharolon

of the birth of Jesus).  John's Gospel begins by telling us that in the beginning there was the Word, and that the Word was with God and the Word was God.  We are told that all things came to be through him.  We hear the opening verses of John's Gospel (John 1:1-18) proclaimed at Christmas Mass during the Day each year.  (There are different Gospels proclaimed at the Christmas Vigil Mass, Midnight Mass, and Mass at Dawn).  This beautiful passage is poetry, and was likely an early Christological hymn.

John was one of the first four Apostles called by Jesus.  He was a fisherman, the son of Zebedee and the brother of James (who is also an Apostle).  James and John were with their father in their fishing boat, mending their nets, when Jesus called them.  The dropped everything, left their father, and followed Jesus.  (See Matthew 4:18-22 and Mark 1:16-20.)  

John was one of the Apostles who shared very privileged moments with Jesus.  For example, it was Peter, James, and John who were with Jesus at Jesus' Transfiguration (Matthew 17:1-2; Mark 9:2; Luke 9:28-29).

In the Gospel of John, references are made to the "disciple whom Jesus loved" (see John 13:23; 19:26; 20:2; 21:7; 21:20). While this disciple is never named, from early times tradition has held that this beloved disciple is John.  We are also told in John's Gospel that as Jesus was dying on the cross he entrusted his mother,   Mary,   to   the   care   of   the   beloved

disciple,  and  that  this  disciple took her into his home (John 19:26-27).  

Tradition holds that John died in Ephesus (in modern day Turkey) around the year 100.

There is a legend, which gained great popularity in the Middle Ages, that a pagan priest had challenged John that he would convert to Christianity if John would drink a cup of poisoned wine and remain unharmed.  The legend went on to say that John blessed the cup prior to consuming it, and that the poison came out of the cup as a serpent.  This is why Saint John is sometimes pictured in art with a chalice with a snake coming out of it.   This  is  also the basis

for drinking a glass of wine on December 27 in honor of Saint John!  In some countries, there was the tradition of bringing wine to church on December 27, when it would be blessed. There was even an official Blessing of Wine for the Feast of Saint John in the old Roman ritual.  While there is no such blessing in our current "Book of Blessings" published by the United States Conference of Catholic Bishops, many people still enjoy a glass of wine on Saint John's Feast Day!  So invite some friends over this evening, uncork a bottle of wine, and drink  to  "Love  of  Saint  John."   And  don't  forget  to  sing  a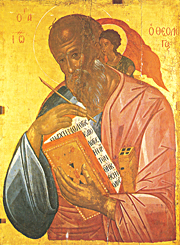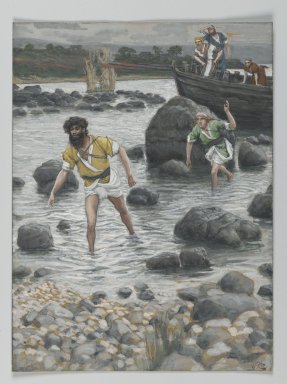 James Tissot (French, 1836-1902). The Calling of Saint James and Saint John (Vocation de Saint Jacques et de Saint Jean), 1886-1894. Opaque watercolor over graphite on gray wove paper, Image: 7 11/16 x 5 3/4 in. (19.5 x 14.6 cm). Brooklyn Museum, Purchased by public subscription, 00.159.58.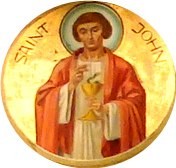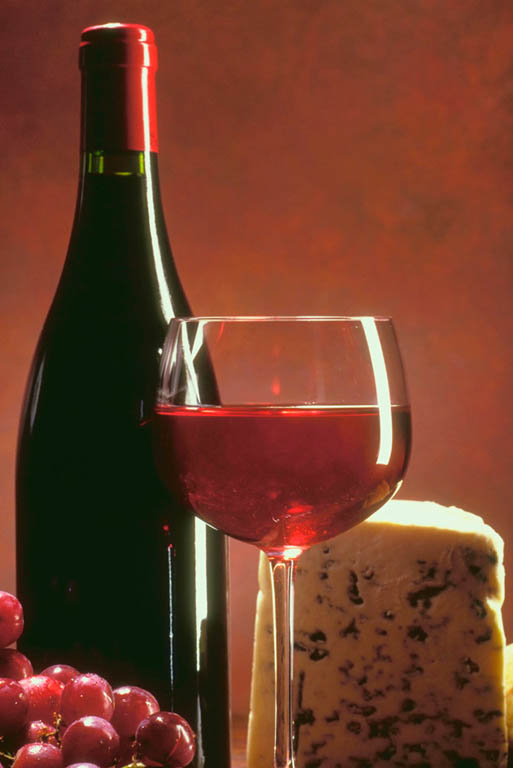 If you are interested in baking cookies for the Feast of Saint John, and/or making Saint John crafts, Springerle Joy sells a traditional cookie mold which celebrates St. John the Evangelist.  A lovely Christmas gift basket for this Feast of Saint John might include a bottle of wine and some cookies baked in the traditional cookie mold.  You could include an icon or holy card of Saint John, such as one from the Bridge Building Images site.
Christmas carol, perhaps "Let Our Gladness Have No End," which includes words for "the Word made flesh".  You can download this carol here.