The Institute for Christian Formation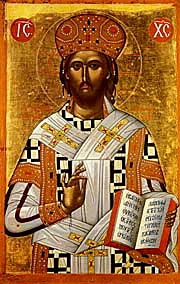 The Octave Day of the Nativity of the Lord:

Mary, the Holy Mother of God

January 1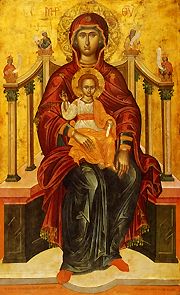 Theotokos Enthroned

1664, Cretan Heritage

Emmanuel Tzanes

"Holy Mary, Mother of God..." These words roll so easily off our tongues in prayer.  They are some of the earliest words of prayer we memorized in our childhood.  But how often do we really stop and reflect upon what it is we are stating in these words?

The Greek word Theotokos literally translates as God-bearer.  This is the title Eastern Christians still use today in referring to Mary, the Mother of God.  It is also the title of Mary that was at the heart of a great controversy at the Council of Ephesus in the year 431.  Mary was the Mother of Jesus, but could she be called the Mother of God?  Saint Cyril of Alexandria's position won out, and Mary was affirmed as the Theotokos.

On January 1st, the octave day of Christmas, we celebrate the Solemnity  of Mary, the Holy Mother of God, the third major feast of the Christmas Season.  Enjoy the video below of a Greek Orthodox Byzantine Chant to Mary Mother of God.

As we celebrate the Solemnity of Mary, the Holy Mother of God, as well as New Year's Day and the World Day of Peace, let us ask Mary to intercede for us, for our families, for our Church, and for the world. 

Holy Mary, Mother of God, Pray for Us!

And January 1st is also World Day of Peace, a tradition begun by Pope Paul VI who held the first such observance in January 1968. Pope Francis has chosen "Peace As a Journey of Hope: Dialogue, Reconciliation and Ecological Conversion " as the theme for our 2020 World Day of Peace. You can read his message here. 
January 1st is also the beginning of our civil calendar year.  Visit the web site of the United States Conference of Catholic Bishops for a Prayer for the New Year.  This prayer may conclude with a Christmas carol.  On this feast of Mary, a lovely carol would be, "What Child is This?"  You can download the score here.