The Institute for Christian Formation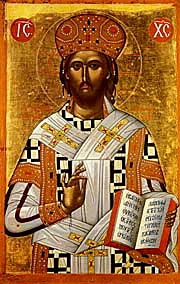 Saint Scholastica, Virgin

Feast (Memorial): February 10

St.  Scholastica

(detail from St. Lucas altarpiece)

Andrea Mantegna 1453-1454

Pinacoteca di Brera

On February 10 we celebrate the feast (Memorial) of Saint Scholastica, Virgin.   Her  name  is  interesting.  Think of words such as scholar, scholastic, scholarship, and the like.  "Scholastica" means "she who has leisure to devote to study."  Some translate her name simply as "the learned woman."  Saint Scholastica was born to a wealthy family in Italy around the year 480.  Her twin brother, Benedict, whose name means "blessed," is also a saint, and we celebrate the Memorial of Saint Benedict on July 11.

Saint Benedict founded the abbey of Montecassino in Italy, and wrote the rule of life by which the monks lived.  Saint Scholastica was the first woman to live by this rule.  She established a convent at Plombariola, about five miles south of Montecassino.
According to tradition, each year Benedict and Scholastica would meet for one day to talk and pray together.  As a woman, Scholastica was not permitted inside the monastery at Montecassino, so they met halfway at a dwelling on the property.  One year (around 543) when they met, Scholastica must have sensed that this would be their last meeting, and she begged Benedict to stay through the night to talk and pray.  But he was rather perturbed at the request, as it was not permitted for him to remain outside the monastery overnight and he needed to return.   Scholastica  put  her  head  down and prayed

and wept.  Just then a terrible storm brewed outside.  The weather made it impossible for Benedict to leave that night.  He asked Scholastica what she had done.  She told Benedict that since when she asked him to stay, he refused her request, she turned to God. 

According to the story, it was only three days later when back at Montecassino Benedict saw Scholastica's soul, in the form of a dove, rising to heaven.  He knew his twin sister had died, and he had the monks go and bring her body back to Montecassino where she was buried in the tomb that had been designated for his burial.  To this day, Saints Benedict and Scholastica are buried together at Montecassino. 

Saint Gregory the Great (circa 540-604) wrote the "Dialogues," and in Book II, "The Life and Miracles of Saint Benedict," chapters 33 and 34 recount the story of Benedict and Scholastica's final meeting, the "miracle" storm, and the death and burial of Saint Scholastica.  You can read Saint Gregory's account here.  And the brief video from the Apostleship of Prayer, below, recounts the story of the final meeting between Benedict and Scholastica.
"The Holy Twins: Benedict and Scholastica," written by Kathleen Norris and illustrated by Tomie De Paola, is a wonderful children's book about Saints Benedict and Scholastica.  This book is available at many public libraries, or can be purchased online.
The Basilica of the Immaculate Conception at Conception Abbey, located in Conception, Missouri, has beautiful Beuronese murals.  One image is that of St. Benedict's last conversation with St. Scholastica.  Another image depicts the funeral of St. Scholastica.

Due to the thunderstorm that broke out when Saint Scholastica was praying for her brother to stay with her through the night, she is invoked for protection from storms.  She is the patron saint of Benedictine nunneries.  As Saint Benedict saw Saint Scholastica's soul rise in the form of a dove, Saint Scholastica is often depicted in art with a dove.