The Institute for Christian Formation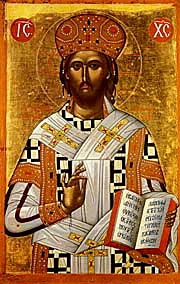 Follow us on Facebook to keep up to date with our news and newest resources!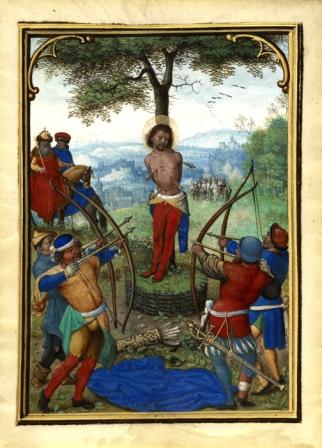 The Martyrdom of Saint Sebastian

circa 1535 – 1540

Simon Bening, illuminator (Flemish)

Tempera colors, gold paint, and ink on parchment

The J. Paul Getty Museum, Los Angeles

January 20th is the feast day (an optional memorial) of Saint Sebastian.  Sebastian lived in the third century.  We don't know a lot of historical facts about his life, but he was already venerated by Christians in the late third century, and there are a number of legends about him which Christians have held to throughout the centuries.

Sebastian was a Christian who lived at a time when the Christian Church was being severely persecuted.  He wanted to be able to both strengthen Christians who had been sentenced to martyrdom for their faith, as well as speak out about their cruel fate.  He decided the best way to do both was to become a soldier.  He even became the chief of the Praetorian Guard, who served as the emperor's personal guardsmen. He had great sympathy for the Christians who were imprisoned, and brought them great comfort. 

Eventually Sebastian confronted the Emperor Diocletian about the cruel way Christians were being treated.  When Diocletian heard this and realized Sebastian was a Christian, he was enraged.  He ordered the execution of Sebastian.  Sebastian was stripped, tied to a tree, and the emperor's archmen were ordered to kill him by using him as practice for archery.  This is why in art you usually will see Saint Sebastian pierced with arrows.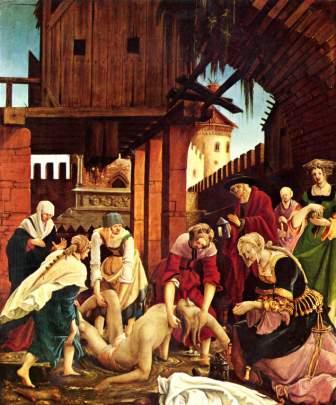 Recover the body of St. Sebastian

Albrecht Altdorfer

1509-1516

His executors left Sebastian for dead, but actually he had survived this terrible attack.  Another Christian, Irene, nursed him back to health.  But his near death experience did not stop Sebastian.  Once he recovered he hid along the way where he knew the emperor would pass.  He then once again confronted the Emperor Diocletian about the cruel treatment of Christians.  Diocletian was shocked and enraged that Sebastian was still alive, and once again ordered him executed.  This time he was clubbed to death, and his body was thrown in the sewer.  His body was recovered and he was buried along the Appian Way in Rome, near where a church now stands in his honor. 

Due to his strength and endurance, especially in surviving the first attempt to execute him,

Saint Sebastian is the patron saint of athletes, as well as archers, soldiers, and police associations. 

Below, you can watch and listen to Sebastián de Vivanco - Elegit Dominus.