The Institute for Christian Formation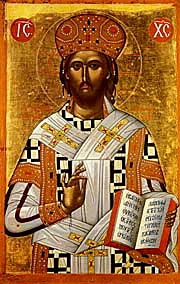 Advent Weekday

Monday, December 21, 2015

We are in our final few days of the season of Advent.  You can access today's readings here. Our Gospel today should sound very familiar. It is Luke 1:39-45, the Visitation of Mary to Elizabeth, and we just heard this Gospel proclaimed yesterday on the Fourth Sunday of Advent in our current Sunday Lectionary Cycle, Cycle C.   So you may want to re-visit yesterday's web page for a reflection on this Gospel. 
On May 31, 2013, Pope Francis gave a beautiful reflection on the Visitation at the Recital of the Holy Rosary for the Conclusion of the Marian Month of May. You can access this reflection here.  Make this reflection part of your Advent prayer today.
The video below presents a nice visual meditation on the Visitation in art.    

You can find a coloring page of the Visitation here.
Today is December 21, which also means on this day our "O Antiphon" is "O Radiant Dawn," or in Latin, "O Oriens."  Read Malachi 3:20, and listen to today's Antiphon in Latin below.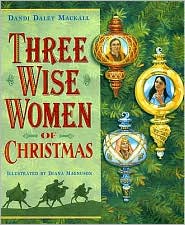 We hear several stories of birth and new beginnings proclaimed in our readings for Mass these late Advent days.  There is a wonderful book for younger children, "Three Wise Women of Christmas" (ISBN 978-0-7586-1108-6), written by Dandi Daley Mackall and illustrated by Diana Magnuson.  This book tells the stories of Mary, the Mother of Jesus; Elizabeth, the mother of John the Baptist; and Anna, the elderly Jewish woman who was in the Temple when Mary and Joseph took the forty day old Jesus to the Temple, as was the custom. 

Attention Young Catholics Grades K-8

Announcing the 2015-2016 Missionary Childhood Association (MCA) Christmas Artwork Contest! Twenty-four winners will be selected in this competition. Winning artwork will appear as e-greetings on their website for children www.MCAKids.org and displayed at the Basilica of the National Shrine of the Immaculate Conception in Washington, D.C. during Advent and Christmas 2016. Entries are due by January 31, 2016.  Download the guidelines and entry form here.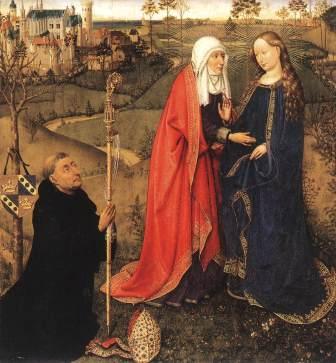 Visitation, from Altarpiece of the Virgin (St Vaast Altarpiece)

Jacques Daret

circa 1434 -1435

Staatliche Museen, Berlin

Saint Peter Canisius, Priest and Doctor of the Church

Feast (optional memorial): December 21

Saint Peter Canisius was a Dutch Jesuit catechist and missionary and was a leader in counter-reformation Germany. He organized the Jesuit province in Germany, and founded several colleges. He wrote "Institutiones Christianae Pietatis."  Saint Peter Canisius died in 1597.  He is known as the Second Apostle of Germany.